Marketing the Rainbow: gay wijn? Ja, gay wijn!
Alcoholische dranken behoren tot de succesnummers van Marketing the Rainbow. In de eerste plaats omdat – helaas – de alcoholconsumptie onder LHBT (veel) hoger ligt dan bij hetero's, maar daarnaast omdat de resultaten grotendeels meetbaar zijn. De populariteit in en afzet via gay bars en clubs zijn direct te meten, en de doelgroep is ook goed bereikbaar. Het gevecht om marktaandeel werd niet alleen gestreden tussen de grote vodkamerken (Absolut, Stolichnaya, Smirnoff en SKYY), maar ook in de laagalcoholische segmenten. In dit artikel: gay wijn. Gay wijn? Ja, laat me jou eens meer vertellen over gay wijn.
Het begon met sterke drank, al snel gevolgd door bier, maar wijn was een relatieve laatkomer op deze markt.
As American attitudes towards gay people have improved – later than in most of the Western world – the presence of "gays in wine", always there but largely invisible, has become clearer: not just in the industry itself, but also in their marketing approach. But it's also recognition that the gay community has a lot of disposable income – and gay people like to drink wine: 16% more than straight people. According to the Journal of Studies on Alcohol and Drugs some 75% of gays and lesbians were described as "current drinkers," as compared to 68% of bisexuals and 59% of heterosexuals. And lesbians out-drink gay men. "Historically, so much gay drinking went on in gay bars because there was virtually nowhere else where gays could socialize," author Sharon Wilsnack says. "Although that has changed, they still face the chronic stress of being a marginalized group, and one thing alcohol's pretty good at, at least temporarily, is reducing stress."
When Jacob's Creek became exclusive advertiser on the TV-show Friends, Diageo's Blossom Hill reacted by sponsoring Will en Grace, the gay (beloved) TV-series – at GBP 850,000 for the run of 24 episodes (the bottle and glass set pictured on the left could have been designed for that, but wasn't). Hardy Wines was prominently present on London's Gay Pride Parade and Sydney's Mardi Gras early '00s.
But this concerned regular, existing wines, aimed at a gay audience. Some brands went one step further and created 'gay wines'. In 2007, blogger Tom Wark wrote: "It's a fact, whether you like it or not, gay wines are here to stay. It all began as some sort of silly game: why would anyone need to drink a gay wine? What would be the special features that would make a wine "gay friendly"?" He did not have the answer…
In 2008 he observed: "Marketing wine to the Gay community isn't brain surgery. You do it in the same way you'd market wine specifically to the Hispanic community or the baseball loving community or the community of middle aged snake charmers: you simply speak to them directly in a voice, with an attitude and with language that they'll recognize. In large part it's about paying attention to them and their specific world view." Which is actually the core of any good marketing approach!
"There's no question that marketing to the gay community is different than marketing to, say, ultra-right-wing religious conservatives, but while the labels may change, you can serve them up the same wine – it's got nothing to do with what's *in* the bottle."
So where did it begin?
Clos du Bois
In the mid-1990s, California-based Clos du Bois vineyards, at the initiative of marketing executive John Calmeyer, started making donations to the Names Project Foundation, the umbrella group for the AIDS Memorial Quilt project.
In 1997 they started advertising to the gay market, with an ad that showed the AIDS quilt and declared its support for the Names Project. A second ad, unveiled in 1998, depicted two men embracing within a collage of photos that again featured the AIDS quilt. They stepped up their efforts in 2001, with an advertising campaign showing corks that were emblazoned with the Rainbow flag. They also reiterated their support for the Names Project.
Clos du Bois spent $ 800,000 on the gay marketing campaign over those four years. "It has been very successful," said Margaret Davenport, senior winemaker at Clos du Bois. "Everyone is amazed at all the calls we have gotten." Marketing Director Ruth Souroujon: "There are a lot of people that view this as a risk. I would say it is important to have brand loyalty. That is what is going to keep Clos du Bois at the top of mind." She calls it "marketing with a conscience." She received hundreds of positive e-mails in response to a winery ad running in gay publications that shows a field of vines being irrigated, with the rising mist creating the effect of a rainbow.
A number of wineries have run their national ads in gay publications like The Advocate and Out, but Clos du Bois was the first to create ads specifically for gay consumers and make a sustained push into the gay market, said Michael Wilke of AdRespect. Because so few wineries had targeted the gay market, it was still largely untapped. Beaulieu Vineyard, a Napa Valley winery, had run its mainstream ads in gay and lesbian publications for two years, but by 2001 had not yet developed ads tailored for the community. Just like in many mainstream publications, wine ads in homosexual media were overshadowed by ads for beer and spirits. Alcohol is the most crowded category in gay marketing, with more than 40 brands jostling for attention, Wilke said. The wine industry, however, has been slower to move into gay media. Wineries typically spend much less money on all forms of advertising than beer and spirits companies. Clos du Bois devoted 2-3% of its advertising budget to the gay ads, but planned to intensify their campaign.
Chandon
Domaine Chandon (of Moët & Chandon fame) unveiled three new variations of its "Drink it in" print campaign in 2001, for the first time targeting the gay community with an ad appearing in The Advocate and Out. The image featured a laughing couple with copy that read: "When you know your future is with him, drink it in."
Rosemount
In the same year the prestigious Australian Rosemount Estate became the exclusive wine sponsor of Washington DC's Pride festivities for the first time, expanding to San Francisco in the following year. They donated Kirri Billi sparkling wine for the Domestic Partner Commitment ceremony and Champagne reception.
Rosemount Brand Manager Honore Comfort said: "We are extremely proud of our involvement with LGBT Pride. Rosemount's innovative brand image and new `Life's Never Still' campaign are a great fit with this event. The weekend is about enjoying life and celebrating diversity and Rosemount wines embody that spirit." Even though these exclamations were rather gratuitous and politically correct, Rosemount still deserves credit for associating their brand with the community in a time when this was not so logical yet.
Crawford Wines, Pansy Rosé
In 2004, New Zealand's Kim Crawford Wines launched the rosé Pansy. It was marketed as the "world's first gay wine" (review: "It's fruity, pink-hued, requires a certain taste and is targeted at the gay community"). Described as "fresh, funky and fun", the winemakers say the blend was created as a bit of fun. According to Erica Crawford, Pansy wine is about "friendship, kindness and generosity of spirit". The wine was aimed directly at the gay community – and at $ 23.99 a bottle not really your everyday wine. The launch parties were in gay bars with lots of feathers, frills and drag acts. At this moment (2016), the wine is no longer presented on the company's website, but a 2015 vintage is still available from other sources.
Risqué Sommelier
The next year, Risqué Sommelier was launched, a website that leaned more on the sexual side of their target group to market wines. The site described its focus this way: "Sommelier is a Wine Interest style BLOG site targeting the Gay consumer that goes far beyond the basic "Wine Critique" into detail riche experiences in Wine, Cuisine, Travel, Luxury Goods, Art and Music… all with a little lighthearted risqué mischief."
One blogger observed: "Is it still necessary to appeal to the purely sexual when marketing to the gay community? Must a product or sales pitch to the gay community assume that my neighbor down the street is primarily concerned with getting laid? From the look of Risquesommelier.com you'd think this is the only thing on their mind." The latest post on their website is from 2010, so I guess their approach was not very successful.
Merryvale
By 2006, the number of 'gay wines' seemed to have grown, as for instance Merryvale Vineyards started a marketing campaign called "Celebrate. Come out to Merryvale" – after having sponsored a number of gay events in the previous months, some events taking place in the winery's 'sacred' cellars. Merryvale's decision to reach out to gay consumers, made at the instigation of proprietor Jack Schlatter and President Peter Huwiler, is part sales strategy, part social statement. "It's not just a marketing thing, it's also a community outreach," says marketing director Jean DeLuca.
Occasionally, DeLuca is asked if she worries about a backlash. "I don't know what there is to worry about," she says. "We're not saying that we're gay, we're not saying that the owner's gay or the president's gay. We're saying that we're gay welcoming and anyone who's uncomfortable with that – OK, fine." Wel – maybe not so fine, but the intention is good.
Still, observers underline that there are some caveats: Rule No. 1, there's no such thing as "gay" wine. Rule No. 2, if you're going to market to a particular demographic, you'd better not be pushing plonk. "First and foremost, you've got to make good wine," says Felipe A. Barragan, co-owner of the Chateau de Vie bed and breakfast in Calistoga and a Merryvale customer.
Rainbow Ridge
One outfit taking a no-holds-barred approach to marketing was the gay owned Rainbow Ridge Wines (Palm Springs, California), a small winery launched in March 2003 with a wine made from the unusual red grape Alicante Bouschet, and the advertising slogan "We're Coming Out." Even their marketing description of the wine comes with a smile. They describe it as "fruit forward with a fabulous finish." It got a 91 rating from Wine Enthusiast, so was not just a marketing ploy – they were obviously not "pushing plonk"…
Co-owner Dennis Costa says he and partner Tom Beatty picked the relatively obscure grape because "we wanted to go after something that's a little different, just like we are." Still, he added, Rainbow Ridge, which subsequently brought out a chardonnay, is just as interested in selling to straight drinkers. "People say, "Oh, gay wine." And we go, "No. It's just a good wine made by a gay owned company." By 2016, no trace of the winery or wines can be found.
Rainbow Cuvee
Californian winemaker Iron Horse presented the world with a sparkling Rainbow Cuvee 2010, to celebrate the 45th anniversary of San Francisco Pride. Their website says: "We are honored to be recognized as one of the top 6 most gay friendly winery in California. It's important to remember how much has changed in just the last decade … Here's to the freedom of being yourself!"
They also give 10 "insider tips" for participants of the Parade, including nr. 9: "Get up to date on the "Alphabet Soup". It's not LGBT anymore. The latest is LGBTQQIA, which stands for Lesbian, Gay, Bisexual, Transgender, Queer, Questioning, Intersex and Ally. By the way, Iron Horse is an ally." Apparently, they missed the memo on Toronto's LGBTTI2QQ2SA Pride.
Pilot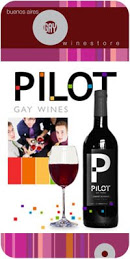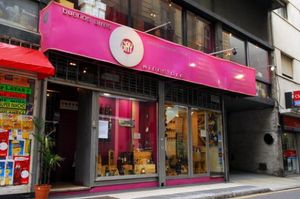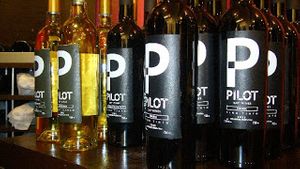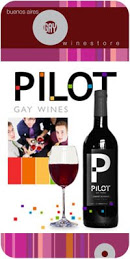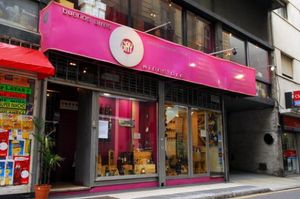 A "gay wine" was also introduced in Argentina in 2006 (four years before the introduction of same sex marriage): Pilot, in no less than five varieties. The brand was owned by the Buenos Aires Gay Wine Store. A reviewer observed: "The bottles are very well presented, with some fancy leather labels and interesting colors. (…) a fresh collection of wines, specially designed for summer times."
Neither the wine, nor the store seem to have survived, however.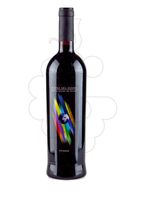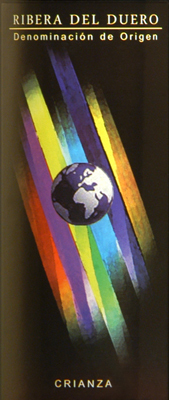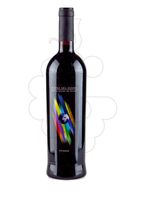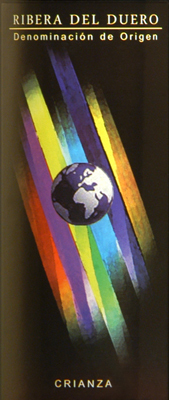 Mundo Gay
The same fate was bestowed upon another Hispanic gay wine: Mundo Gay, from the Spanish region of Ribera del Duero, presented after the introduction of same-sex marriage in Spain, by Bodegas y Viñedos Robeal. They said it was meant to "open the minds of those in the small agricultural area of Ribera del Duero. By 2014, their website no longer lists this wine, although some wine shops still seem to offer some bottles.
Domaine de Boyer
In the same year the French Domaine de Boyer launched a sparkling rosé called 'Tendre Bulle Gay Vin' (Tender Bubbles Gay Wine). On the bottle are two stylized heads, which appear to be almost kissing, with the words 'Gay Vin' underneath. The letters G and L, for gay and lesbian, appeared on the foil capsule covering the cork. "I added on the L and G letters after some women at a wine fair told me, oh, so your wine is only for boys," said the wine's creator, Jacques-Edouard Pailles. He started out wanting to make a rosé wine that would be called the gay wine of Malpierre, one of the local place names, but could not, because of AOC regulations. 'So then I thought it would be fun to make a happy wine, something festive, as in happy which is what gay used to mean in the middle ages,' he said. Pailles made about 13,000 bottles of Gay Vin which retailed for about € 6 each.
UO! Wines
In 2009, another Spanish effort was made. Spanish UO! Wines is a line of three wines created with homosexual men in mind, and its descriptions, packaging and website imagery were all tailored accordingly. Underscoring the connection it sees between wine and sexual orientation, UO! explained: "Right from the time you see the wine in the display case, we want to ensure that the bottle speaks about more than its delicious contents; that it has to do with you; that you are offering whoever you are with something more than a simple glass of wine."
Again, at present no trace of wine or vintner can be found anymore.
VinAmis
In 2010, Dutch wine house VinAmis marketed the "Chardongay" at the occasion of the annual Canal Pride parade. Strangely enough, this was not Chardonnay but a Chenin Blanc with Colombard, while there was also a red: Cabernet Sauvignon. A Rosé was added later. A competition was organized in 2011 to spruce up the label a bit, as it was deemed too boring. These wines no longer exist.
And then there were products like Gay Rosé by Oregon's Naked Winery ("we aim to tease"), Marry Me by the Save Me San Francisco Wine Co., the Argentinean Arcoiris (rainbow) wine, Californian Dancing Bull sponsoring GLAAD, and companies such as Orgullo Wine from Spain, making three varieties of Pride wines. We saw organizations such as the Argentinian Altura, offering "gay-friendly wine tours" and gay and lesbian wedding celebrations in the vineyards. There is The Gay Man's Guide To Red Wine offering life saving tips for first dates and dinner parties (imagine ordering a Merlot prior to the main meal!).
Barefoot wines
This wine house – est. 1986 – stems from California (member of the E & J Gallo family since 2005). Their website has a special LGBT section, which says: "A proud LGBTQ+ ally since 1988, Barefoot believes in accepting everyone exactly as they are. Discover how your purchase supports LGBTQ+ communities around the world and #MarchOnward with us!" In that year they began their support for the Golden Gate Business Association. Later collaborations include InterPride, OutServe-SLDN, GLAAD, Free Mom Hugs, World Pride and World of Wonder / RuPaul's Drag Race Queens.
Barefoot Wine & Bubbly has been supporting marriage rights for gays for 25 years, donating to local LGBT centers and other organizations, investing in Pride Week events, even putting up a 20-foot-tall inflatable wedding cake in front of San Francisco's City Hall to show support for gay marriage – and a similar cake in
Amsterdam during Europride 2016.
"We definitely love to celebrate the LGBT community and all of its progress,
" says Jerime Black, Barefoot's national LGBT sales and marketing manager.
"Barefoot really is all about fun. It's taking the stuffiness out of wine."
Barefoot publicly congratulated the state of New York after allowing
same-sex marriage in 2011. Up until then, they had proudly supported LGBT
causes nationally, donating to and participating in hundreds of fundraisers,
driven by Randy Arnold, Barefoot National Sales Manager since 1988.
In spite of the cancelled 2020 Pride celebrations around the world, Barefoot released a series of bottles and cans with bubbles.
Since 2010 they have scored a perfect 100 on the Human Rights Campaign's Equality Index.
Click here for the full article.
"Queer champagne"
Late 2019, Swedish historian and wine enthusiast Pedro Bentancour Garin started a crowdfunding campaign to support the launch of an 'organic, queer champagne'. The pride-profiled brand should have a permanent LGBT focus and give 25 percent of the profit from each bottle sold to support queer liberation movements in countries where the community is still oppressed. The kickstarter campaign only reached 1% of its target of €450,000, so the project did not materialize.
And finally: wine and same-sex marriage
Of all the many esteemed wine-producing regions in North America, western Sonoma County – in particular the area between Healdsburg and the Russian River resort area – stands out not only for its superb wineries and stunning natural scenery, but also for having a tremendous gay following.
A group of Californian gay wine enthusiasts created Out in the Vineyard in 2011, "an experiential Wine Country Event and Travel company promoting positive LGBT lifestyles and offering exclusive, luxury itineraries and events in Wine Country for the discerning gay traveler and their friends." The organization is supported by Jackson Family Wines, a staunch supporter of the community – as meanwhile are J, Windsor Oaks, Sebastiani, DeLoach, Boisett Family Estates, Lasseter Family Winery, Ravenswood, Gary Farrell, Iron Horse, Muscardini and many others.
In the mid 2010's more and more wineries were coming out loud and proud in their support of gay marriage. They put it right on the label. One of the barrier breakers was Stein Family Wines, with Same Sex Meritage, a red blend that sends its message on the bottle and at the cash register: one dollar for every bottle sold was donated to the advocacy group Freedom to Marry.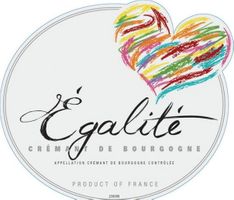 Another brand that 'came out' is Égalité, a sparkling wine from the Burgundy region of France. Each quarter, a portion of profits is donated to a LGBT non-profit organization chosen by fans of the wine on Facebook: by 2013 $ 15,000 had been donated. Égalité claimed to be "the first nationally-distributed wine created in support of LGBT equality in the United States and around the world."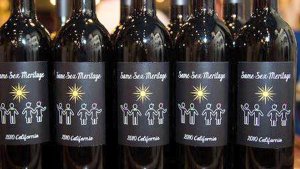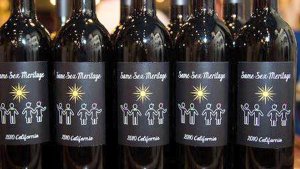 From Stand Tall Wines, there's Genetic Pinot Noir ("the first LGBTQ wine label ever produced (that we know of)"), which refers to sexual orientation having genetic origins. Stand Tall Wines was founded by Larisa Stephenson and partner Dana Sabin. 1% of Genetic sales is being donated to the Napa LBGTQ Connection.
So – that's gay wine for you.